Due to its close proximity with industrially developed surroundings, Jaipur is gaining huge momentum in commercial infrastructural development. Whether it is the already established business firms planning their expansion or the ones planning a new start, both are considering establishment in a relatively sparse development hub as profitable. In this infrastructure race, Trimurty Builders have successfully marked the forefront of real-estate construction with the expansion of distinguished commercial projects in Jaipur.
Completed Projects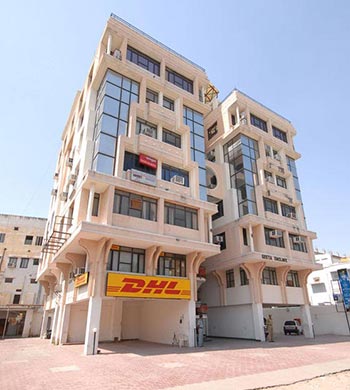 Geeta Enclave
C-Scheme, Jaipur
Prime Arcade
Sunrise City, Niwaru, Jaipur
The Wallstreet Business Hotel
Jaipur
Commercial Properties in Jaipur - The Popular Types
Newfangled Establishments:
Novel establishments are speedily marking the sphere of industrial expansion in Jaipur. Keeping in mind the office space requisites of varied clients ranging from small business owners to large investment seekers, we have laid equalised efforts in offering all sorts of commercial spaces for the clients to choose from.
Commercial Property put Up for Sale:
For customised large scale developments, the most feasible choice is to purchase a land that is available for sale and build it in a tailored fashion to achieve the desired uniqueness in brand style. Such lands are most suited to reseller investors as the long term value of these a few years down the line will be massive when nearby areas will be set up completely with only few chunks remaining. It is at that time that this investment is likely to seek the highest returns.
Our 'Essentials' in Setting Real-Estate Establishments
Areas those are easily accessible by local transport
Proximity to all the desired utilities
Secure place with balanced state of liveliness and calmness
Peaceful surroundings lying within eco-check boundaries
Properties that are likely to appreciate through the running time
Why Walk Through the Commercial Real-Estate Arena With Us?
Trimurty Builders is an established brand in raising large commercial sectors with great success in the best of locations. Our commercial infrastructure envelops a lot of options thereby sufficing the need of all. Whether it is a core industrial area or a quiet waterfront or hill that you want for your commercial activities, we hold everything to offer our clients with an impeccable variety to choose from.
At Trimurty Builders, we define a unique real-estate building mark. We guide our construction activities as directed by the client in consultation with our architectural and civil experts. In all we offer, clients always get the ruling side and we strive to give a real face to what they have in mind as imaginations. Call us today for giving your office space ideas a real look!