We Believe
Sustainability is the way of living...
There has been a lot of hue and cry about issues like Global Warming, Water Scarcity, Carbon Emission etc. Opinions have been heard, shared but little cared about. For discussion, the issue has turned out to be an evergreen and never-ending topic and for seminars & conferences where people take pride in talking on the matter as warriors of the future.
But very few have contributed for real and lent a hand in finding a solution to it. Buildings account for a large amount of land use, energy and water consumption, and air & atmosphere alteration.
The lone demand of energy and water can be reduced by employing energy efficient technologies like use of highly efficient appliances, LED's, better insulation of buildings, and proper management of water by recycling and reuse of water by various treatments, conservation of rainwater, etc., thereby reducing the load on the underground aquifer and local water supply.
Pioneers in Green Building in Rajasthan
We at Trimurty understand the need of the present and the importance of small steps in this direction which is way beyond mere words.
As a first step, we constructed The Fern, an Ecotel hotel- (Ecotel is a hallmark of environmentally sustainable hotels) at Jaipur, Rajasthan.
#1 Gold Rated Green Home Project
We made the first gold rated green home project - Aurum certified by IGBC in Rajasthan.
#1 Precertified Platinum Rated Green Home Project
Ariana - the first Pre-certified, Platinum rated green home project in Rajasthan.
10 reasons to buy a Green Home from Trimurty
Thoughtfully constructed keeping the concept of 'Reducing carbon footprint' at core
Constructed of state-of-the-art materials and technology
Better lighting and ventilation
A healthier home
No additional cost for sustainable solutions
Reduced water usage
Saving on energy bills
Be a part of the few Green Home Projects in the country
Low maintenance costs
Better rental/resale value
What is Green Home/Building?
It is defined as... "A green building is one which uses less water, optimizes energy efficiency, conserves natural resources, generates less waste and provides healthier spaces for occupants compared to conventional buildings."
Green value may be defined by the impact made by the solutions/processes adopted in the construction:
Earth
Health
Water
Energy
Earth
Conserves resources as much as possible or uses recycled or sustainable materials.
Certified wood is used
Ensures reduced site disturbance and soil erosion during construction
High SRI tiles or paint is used to reflect solar heat and less transmitted of heat in the buildings
Use of low VOC (volatile organic compound) paints and finishes that release few or no pollutants
Efficient utilization of available natural resources
Rainwater harvesting system to recharge the earth's reservoir
CFC free air-conditioning
Preservation of urban biodiversity
Composting of organic waste
Fact File
Trimurty has...
Planted over 30,000 trees and plants in the last 10 years in its various projects and has also undertaken road side plantation outside its projects
introduced composting in its projects in 2012
has distributed over 10000 bird nest boxes and bird feeders to conserve house sparrow
Introduced air quality monitoring at under construction projects, and steps are taken to reduce air pollution
Health
Supports healthier indoor air and water quality
Good light and ventilation to promote good health and mood
Premium quality window with proper insulation to seal the home tightly and lessen the possibility of allergens contaminating the indoor air
Exhaust fans in kitchens and bathrooms to remove fumes and humidity in the areas, thereby reducing the chance of mold growth
Proper ventilation in the parking area to avoid exhaust fumes and vapor migration into living areas
Cross ventilation in public areas
Low VOC paints and finishes for better indoor air quality
Walk-able access to outside parks, markets, and other community areas
Active sports facilities within the projects
Green spaces - Proper access for specially abled citizens is an integral part of a project design
Water
Solutions that lead to reduced water consumption, one of the most precious natural resources and protect water quality
Extensive use of draught tolerant plants that require less water
Use of drip irrigation
Dual plumbing that recycles water in toilet flushing
Minimization of waste water by utilizing water conserving fixtures such as ultra-low flush toilets and low-flow shower heads
Use of treated grey water in green areas
Use of treated grey water for flushing in toilets
Fact File
Green buildings reduce up to 40% of fresh water requirement
Trimurty has rejuvenated a redundant pond into a reservoir that sustains entire year
Trimurty has developed a new pond for water harvesting
Water audits are conducted in various Trimurty projects
At trimurty we have implemented the assessment of the quantity of water consumed in building construction , probably the first time in local industry.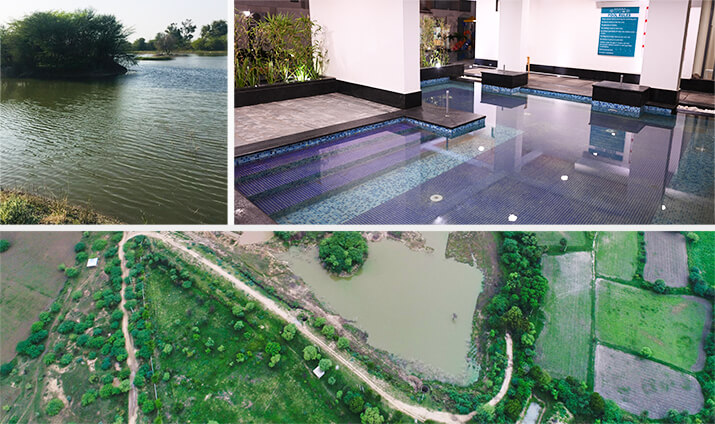 Energy
Reduces energy demand and produces energy
Increased efficiency of air conditioning by use of highly efficient window systems, high performance glasses, walls and roof insulation
Energy efficient air conditioning
Use of LED lamps exclusively as they generate less heat, use less energy and last longer
Overhang to shade windows, from direct sunlight to dramatically reduce heat gain Solar system
Maximum usage of locally quarried materials that require less energy to be transported to the site
Solar power generation to meet common area needs
Fact File
A green building saves up to 40% energy as compared to a conventional building.